Are you considering buying a piano and wondering which type is right for you? Upright pianos and grand pianos are two of the most popular types, but they have very different features. When it comes to Upright piano vs grand piano, choosing one for yourself could be difficult.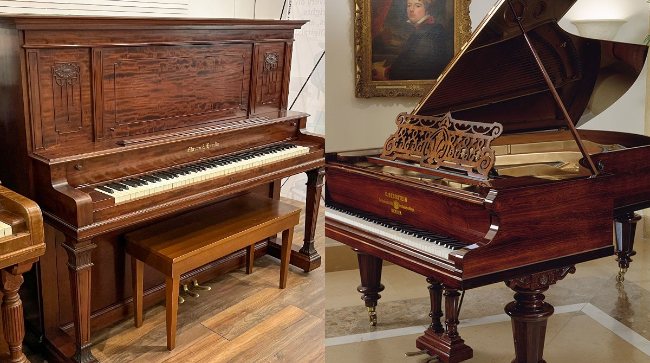 In this article, we'll explore the differences between upright piano vs grand piano in terms of sound quality, size, cost, and more. This will help you decide which type is best suited to your needs. So if you're looking for guidance on choosing an instrument that fits your lifestyle and budget perfectly, read on!
Upright Piano vs Grand Piano
Before we move on to the differences between upright and grand pianos, we are going to learn about upright piano and grand piano.
An Upright piano is a keyboard instrument that is intended to be placed on a vertical surface. It typically consists of a soundboard, strings, keys, and pedals, all housed in a vertical cabinet. The soundboard transmits the vibrations of the strings to the air, producing the sound of an upright piano.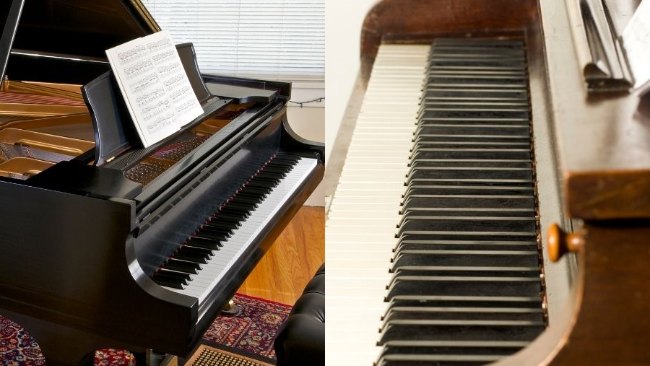 A grand piano is a type of keyboard instrument with a much larger frame and strings that are strung horizontally inside the instrument. Its size enables it to accommodate more strings, which produce a richer and fuller sound. Grand pianos are also known for their wide range of dynamic expressions.
Both grand pianos and upright pianos have their advantages and disadvantages, so make sure to do your research and decide which is best for you. Now that you know the basics, let's look at some of the most significant differences between upright and grand pianos.
Upright Piano vs Grand Piano Sound Quality
The biggest difference between the two types of pianos is their sound quality. Upright pianos have a smaller range of sound, and they are often lacking in depth, bass, and resonance. Grand pianos, on the other hand, have a much richer tone that is fuller and more dynamic.
The sound of a grand piano is often described as being more "alive" than that of an upright. Using a grand piano is also one of the Piano audition tips because of its sound quality.
Upright Piano vs Grand Piano: Size
The size of the piano is another important factor to consider. Upright pianos are much smaller than grand pianos, making them a good choice for those with limited space. Their more compact size also makes them easier to transport. Grand pianos, on the other hand, are much larger and require a lot more space.
Upright Piano vs Grand Piano: Design
When choosing a piano, one of the key considerations is whether to go for an upright or grand piano. Both have their distinct advantages and disadvantages in terms of design, so it's important to decide what suits your needs best.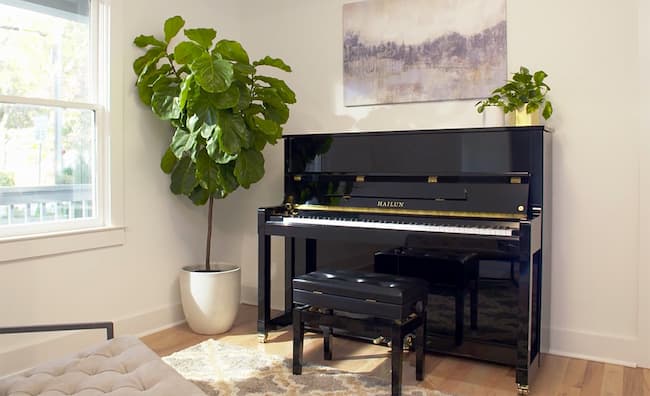 Grand pianos have a sleeker and more imposing look, while upright pianos are more traditional in their design. Whether it's a grand or upright piano, make sure the piano is on an inside wall. You can see this detailed guide on Does a Piano Have to be on an Inside Wall.
Upright Piano vs Grand Piano: Cost
The cost of an upright piano is typically much lower than that of a grand piano. Upright pianos can range in price from several hundred dollars to thousands, while grand pianos can easily cost upwards of tens of thousands. Therefore, if you're on a tight budget, an upright piano is the better option.
Upright Piano vs Grand Piano: Which is Right For You?
This depends on a number of factors. If you're looking for a more affordable option, an upright piano is probably the better choice. However, if budget is not an issue and you want a more full-bodied sound, then a grand piano might be the right option.
Another main factor to consider is what you want a piano for. If you are a beginner, an upright piano is probably the better choice as they are cheaper and easier to learn. However, if you want to take your playing to the next level, then a grand piano would be the better option.
If you want to perform in bigger spaces, a grand piano is also the better choice as its sound can fill larger areas more effectively. Whichever type of piano you choose should depend on your budget, space constraints, and what you want to use it for.
Final Words
Ultimately, if you want a truly professional sound, then a grand piano is the way to go. But if you're just starting out, then an upright piano is a great option. Hope this article has helped you understand the differences between upright and grand pianos. Reach out to Pianos Hub for more information or if you need help.