If you want to know how to move a piano safely, then this is for you. Moving a piano is no small feat. These majestic instruments, while producing the most harmonious of melodies, are a colossal challenge when it comes to relocation. Pianos are heavy, awkwardly shaped, and delicate, making them one of the most daunting items to move. On top of their physical complexities, they often hold significant sentimental value, adding emotional weight to the task.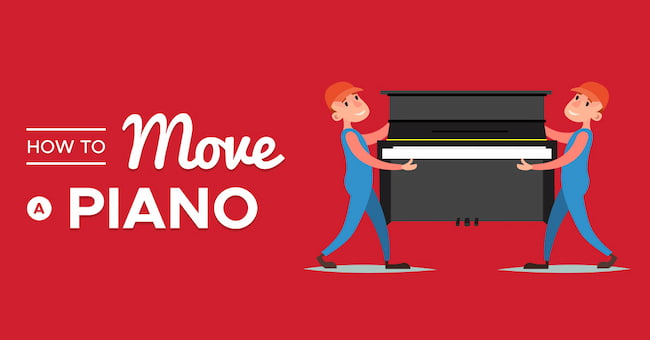 The lack of the right equipment or expertise can lead to costly damage to the instrument or even personal injuries. This blog post aims to guide you through the process of how to move a piano safely, whether you're relocating to a new home, or merely shifting it to another room. We'll delve into how to move a piano while addressing the intricacies involved, helping ensure your prized possession reaches its destination unscathed.
How To Move a Piano
A piano is a heavy instrument, weighing anywhere from 300-1000 pounds (depending on the style and size). That's why it's important to take extra caution when transporting it. If you are going to do this by yourself, then you must be extra careful and ensure that you have enough people with you to help. Let's get started with how to move an upright piano.
Before You Begin
Before you begin, make sure you know how heavy and awkward your piano is, and plan ahead. Also, prior to seeing how to move a piano, you have to make sure you have the supplies you need.
Things you're going to need when you are seeing how to move a piano:
Piano board
Measuring tape
Heavy-duty moving straps
Screwdriver
Dolly
Moving blanket or padding
Screwdriver
Bungee cords
Here are the steps involved in moving a piano.
Step 1: Measure the dimensions of your piano
This is a necessary step before you start the process. Knowing the exact dimensions of your piano will help you know how much space it requires and plan accordingly for the move. If there are any removable parts like music stands or pedals, take them off and place them in a secure container that can be easily moved.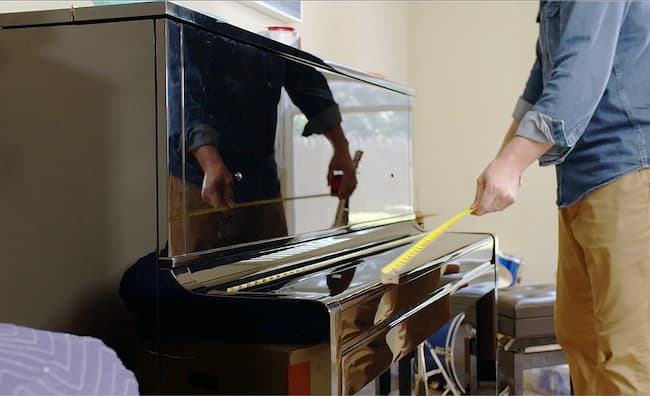 Step 2: Measure the doorways, staircase, and hallways
Make sure you measure all the doors, staircases, and hallways that your piano will need to go through on its way out of or into your home. If the openings are too small for the piano to fit through, you may have to remove part of an exterior wall. This is a must-do step if you're going to make sure your piano doesn't get stuck somewhere along the way.
Step 3: Gather your Supplies and Helpers
A piano is a pretty heavy item and you may need some helping hands to get it where it needs to go. Gather supplies like a piano board, heavy-duty straps, a dolly, and/or a moving blanket for padding. Also, make sure you have people who can help you lift it onto the dolly as well as maneuver it through tight spaces.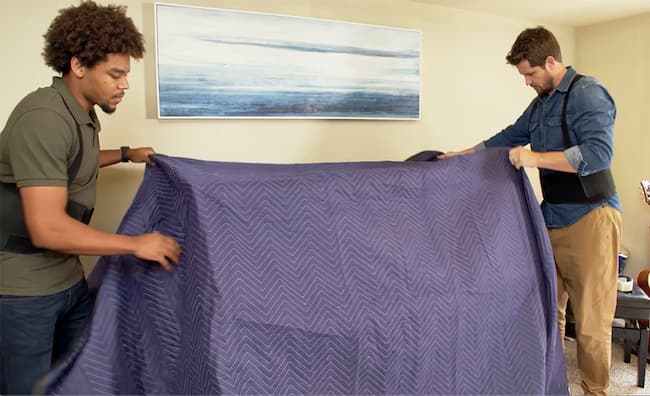 Step 4: Secure your Piano
The last thing you want is for the piano to slip off of the dolly or out of your grip. Make sure you use bungee cords and/or straps to secure it in place. You can also wrap a moving blanket around it for extra protection. This will also ensure that it won't cause any damage to the walls or other furniture in your home.
Step 5: Use the Piano Board
Now you're ready to get the piano onto the dolly. To make it easier, use a piano board to move your instrument. A piano board is an extra-wide board that provides greater stability when moving heavy items like a piano. Place it on top of the dolly and then carefully lift your piano onto the board.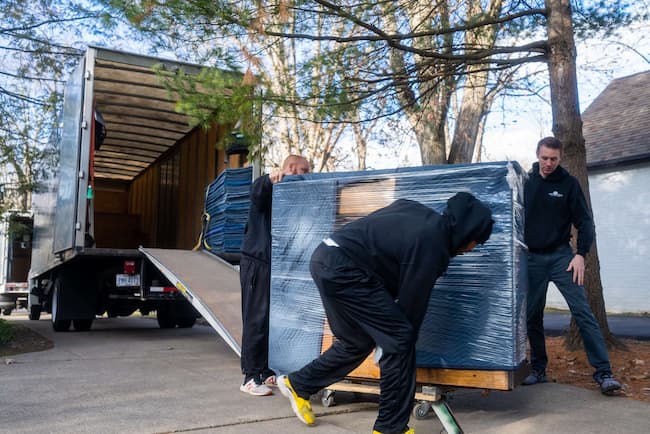 Step 6: Move the Piano
Once your piano is secured, you're ready to start moving it. Make sure the dolly has non-marking wheels so that they don't damage your floors. Slowly and carefully wheel it through doorways, hallways, and staircases. If you come across any tight corners, ask someone to help you turn it around to avoid bumping into walls or other furniture.
Step 7: Unload the Piano
Once you reach your destination, it's time to unload the piano. Make sure that the room is free of any obstacles and have someone help you lift it off of the dolly. Now you're done! That's how to move a piano safely.
More Similar Articles
Conclusion
That was all about how to move a piano. Moving a piano is no easy task. But with the right equipment and people to help you, you can do it safely! With careful attention to detail and caution during the moving process, your beautiful instrument will make its way to its new home unscathed. Hope this guide on how to move a piano was helpful to our readers. Check out Pianos Hub for more useful tutorials. Safe travels!