Are you looking for good speakers for your digital piano? In this blog post, we'll look at some of the best speakers for digital piano.
Digital pianos have become increasingly popular in recent years, and with good reason. Unlike acoustic pianos, digital pianos allow you to practice anytime and anywhere, and many of them come with built-in speakers or Bluetooth connectivity.
If you're looking to buy a speaker for your digital piano, you may face a problem of choice – budget constraints and the sheer volume of options that are on offer.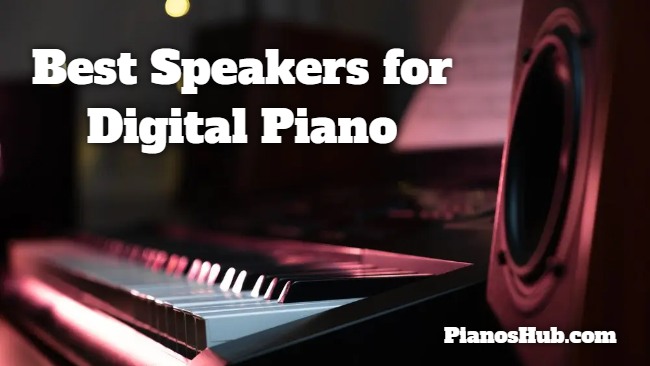 It can be incredibly daunting to try and decide where to buy a speaker system from. However, not all speakers for digital pianos are created equally.
In this blog post, we'll take a look at some of the best speakers for digital piano, as well as the pros and cons of each. Keep reading to learn more!
Best Speakers for Digital Piano
Most piano speaker sales are online these days, and while most piano manufacturers offer their products exclusively online, many only offer a limited choice of keyboards. This is ideal for people looking to invest in a new piano. However, it can be extremely daunting to try and choose between different digital piano speaker models.
So, to help make your choices that little bit easier, here are five of the best speakers for digital pianos currently on the market.
The Roland KC-200 is a keyboard amplifier that is designed to meet the needs of keyboardists. It is a compact and affordable unit that is perfect for beginner players. It features a redesigned power amp and power supply sections.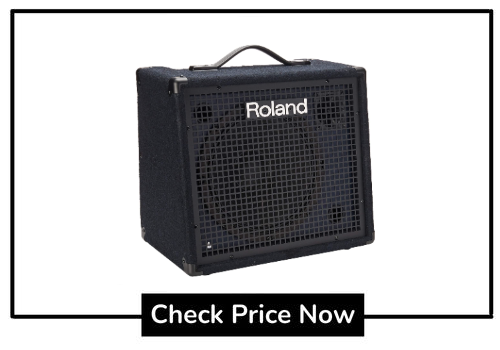 These sections provide increased stability and improved bass reproduction. It also features a newly developed two-way speaker system. This system includes a 12-inch woofer and a tweeter. The onboard mixing section features four 1/4-inch line input channels, an auxiliary input with 1/8-inch and RCA jacks, and a monitor output.
The master EQ is adjustable and can be used for monitoring. The KC-200 also features a dedicated monitor output that can be used for click and guide tracks. The KC-200 also features a mic input with XLR jack, a 1/4-inch line output, and headphones output. The KC-200 also features a metal jack for increased durability.
The KC-200 keyboard amp is a great solution for players on a budget. It delivers high-quality sound, plenty of inputs, and a helpful assortment of features. Whether you're in charge of sound for a gig, rehearsal, or church service, the KC-200 is well worth its modest price tag.
The Klipsch The Fives Powered Speaker System is a great upgrade for your home entertainment system. This powered speaker system features dedicated left and right speakers that provide powerful, high-fidelity sound. This speaker system also has the capability to connect to virtually anything.
This speaker system also features True Connectivity technology. This feature allows you to connect any Bluetooth device to the speaker system. You can connect a smartphone, tablet, laptop, or gaming console. This speaker system is also capable of connecting to any device that has a 3.5mm jack.
The Klipsch The Fives is a no-frills, affordable powered speaker system that packs a lot of watts for its size. It lacks some of the polish of pricier offerings, but it delivers solid, punchy, room-filling sound. This speaker's design is small and compact, making it ideal for sitting on your nightstand or table. Klipsch has decades of audio design experience, and it shows in The Fives's clean, elegant design.
Thanks to its versatile connectivity, The Fives can connect wirelessly via Bluetooth, USB, and RCA, as well as wired. It even has a built-in 3.5mm input to connect to an MP3 player, CD player, smartphone, or other portable audio device.
Peachtree Audio M25 is the powered speaker that features a 5.25 inch fiberglass woofer. It has 1 inch soft dome tweeters. It has 50 watts of power, and it is capable of processing 5.25 watts per channel. It has real wood cabinets, and it is capable of playing up to 75 watts per channel.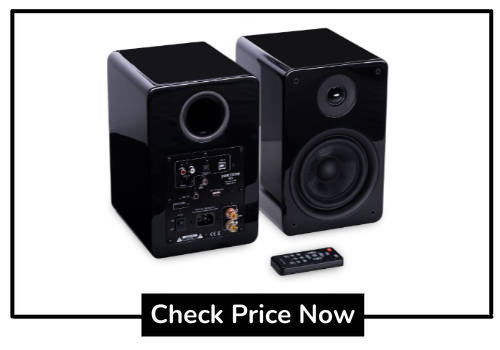 The M25 also has 24-bit 96kHz USB and optical digital inputs. The full-size 1/4 inch RCA L/R analog inputs switchable between AUX and built-in PHONO. The M25 has Bluetooth wireless streaming. It also has a subwoofer output for additional bass.
The M25 has a 5V USB charging port to keep your device charged. It has a wireless remote control. It also has removable speaker grills, and desktop stands available separately. For about $200, Peachtree Audio's M25 speakers offer a solid level of performance and features.
The 5.25-inch fiberglass woofers offer solid bass response and the mids and highs come through crisply without distortion. Overall, the M25 speakers deliver excellent sound for the money, and perform well with a wide variety of music, from rock to jazz to classical.
The Gemini AS Series is a dual 15 inch active PA loudspeaker system. It is capable of giving you crisp, high-quality sound. The AS-215BLU-LT System includes a bright and perfectly synced LED light array. This array adds more atmosphere to your performance. It has a dual-15-inch 3000W bi-amped AB Class system.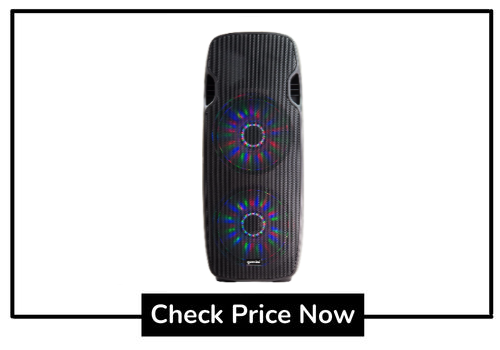 It comes with a USB port, SD slot, Bluetooth compatibility, and RCA, 1/4″, and 1/8″ outputs. It also has 2-line inputs with independent gain controls and also has an RS485 and IR remote. We liked the Gemini AS-215BLU-LT's balanced, deep, and clear audio, which, along with the versatility of its inputs, makes it the go-to speaker for almost any performance or multimedia event.
The speakers also have a nice presence, making the AS-215BLU-LT ideal for outdoor events, and they fold flat for easy transport. The speakers aren't as bright as the other active speaker in our tests, but the Gemini unit still has enough brightness for most uses. The speakers are easy to configure and use, and their rugged, reliable construction is reassuring, this is most suitable for digital piano for under $1000.
Most important, the AS-215BLU-LT has the design of the bigger, more expensive models in the Gemini line, with its attractive, well-built, and modern look, as well as rich, vibrant color-and-lighting effects that add to the music's energy.
The Rockville RPG122K Dual 12″ Powered Speakers deliver high-quality sound. They are perfect for DJ's, bands, home studios, and more. These speakers are powered, and they feature long-throw woofers and high-quality tweeters.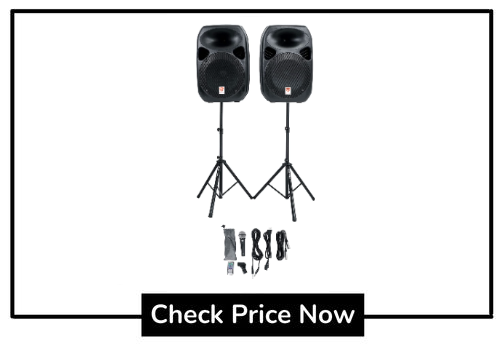 The Rockville RPG122K Dual 12″ Powered Speakers also feature built-in Bluetooth. You can connect them to your smartphone, tablet, or other Bluetooth-enabled device to play music. You can even TWS link the speakers together to send audio to both of them.
These speakers also feature USB and SD card inputs. The Rockville RPG122K Dual 12″ Powered Speakers also feature FM Radio. They are capable of playing audio from CDs, USB flash drives, and SD cards. These speakers are versatile, and they can be used at home, in a studio, or on a stage. This dual 12 powered speaker system has two speakers and two inputs for microphones.
Each speaker has a bass and treble control so you can control each speaker independently. The included wired microphone is a good quality metal mic. The included tripod speaker stands are rugged and can support up to 125 lbs. The included wired microphone is a good quality metal mic.
How To Choose the Best Speakers for Digital Piano
When it comes to choosing the best speakers for digital piano, it's important to consider a few key factors. First and foremost, sound quality should be taken into account.
The best digital piano speakers are capable of producing a rich, full sound that accurately reproduces the tones of a traditional acoustic piano. They should also have a wide frequency range, so that all tones of the digital piano are heard clearly. Additionally, the speakers should be able to handle the digital piano's polyphony and have enough wattage to reproduce low notes without distortion.
The second factor that should be taken into account is the size and placement of the speakers. If a musician is looking for a full-range performance from their digital piano, then large, full-range speakers are the way to go. On the other hand, if a musician simply wants clear, concise sound, then smaller speakers may be a better choice, also have a look on best yamaha digital piano for intermediate. It's also important to consider the placement of the speakers – some digital pianos come with built-in stands, while others may require a separate stand for the speakers.
Finally, the best speakers for stage pianos should be capable of providing a wide variety of sounds and effects. Look for speakers with multiple inputs, adjustable digital signal processing, and even MIDI capabilities. With the right speakers, a digital piano can truly come to life, providing a rich and vibrant sound that is unrivaled in traditional acoustic pianos.
FAQs Answered about Best Speakers for Digital Piano
The best speakers for digital piano are a critical component of a quality sound system. They allow you to hear the full range of a digital piano's sound. While there are many different types of speakers on the market, not all are suitable for digital piano sound. Here are five of the most frequently asked questions about the best speakers for digital piano.
What is the right size of speakers for digital pianos?
Digital pianos come in a variety of sizes, so the size of the speakers needs to match the size of the piano. Smaller digital pianos will require smaller speakers, while larger digital pianos will need larger speakers.
What is the material used to construct the speakers?
Many digital pianos use metal speakers, while others use ceramic or plastic. The material used affects the sound quality and the longevity of the speakers.
Does the power of speakers matter?
Speakers with more power will produce a louder sound, while speakers with less power will produce a softer sound. It is important to choose speakers with the right power for the size of the digital piano. Different types of speakers have different sound characteristics, so it is important to choose the right type for the type of sound you want to produce.
Where should I place the speakers for digital piano?
Speakers should be placed in the optimal location for the best sound. This can vary depending on the size of the room and the size of the digital piano.
Conclusion
Overall, choosing the best speakers for digital piano is a critical component of creating a good sound system. The size, material, power, type, and placement of the speakers all need to be taken into consideration when choosing the right speakers for a digital piano.
With the right speakers, a digital piano can truly come to life, providing a rich and vibrant sound that is unrivaled in traditional acoustic pianos. We hope this guide helped you find the best speakers for digital piano. Reach out to digital piano reviews if you want to get more related information about finding the best pianos and suitable accessories. Thank you.