Want to buy the best Yamaha digital piano? Here's all you need to know about it. A digital piano is a keyboard that is played using digital sensors instead of wood keys. It is designed for producing and playing music digitally. It's different from a traditional piano in that the notes are not struck, they are pressed. This means that a digital piano has a wider dynamic range.
Yamaha is one of the renowned brands of musical instrument manufacturers in the world. Yamaha digital pianos have a rich and diverse history. They have always been famous for their innovation and quality. Yamaha digital pianos come in different sizes, shapes, prices, and qualities. One of the great things about the Yamaha digital piano is that it has always been a favorite among musicians.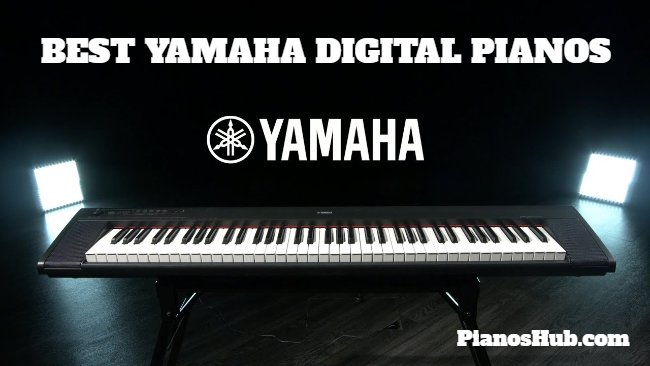 Choosing the best Yamaha digital piano can be a daunting task, especially if you don't know much about pianos. This in-depth guide will help you to make an informed decision. By the end, you'll know exactly which is the best Yamaha digital piano for you. So, without further ado, let's get started!
Best Yamaha Digital Piano
There are different types of Yamaha digital pianos. Some of them are portable digital pianos, others are standard digital pianos, and others are highly graded-digital pianos. Considering all the features and functionalities, we have picked the top 3 best Yamaha digital pianos for you and reviewed them here.
The Yamaha YDP184 Arius Piano is a popular choice among pianists. It features a CFX Premium Grand Piano Voice that recreates the sound of a concert grand piano. With this voice, you will be able to enjoy the realistic sound of your piano.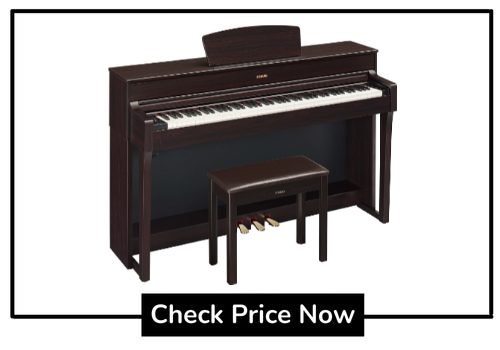 The YDP184 Arius Piano also has 128 polyphony. With this, you will be able to play multiple notes at once. The piano also comes with a padded bench, music stand, power supply, and sheet music book. The Graded Hammer 3 action of the YDP184 Arius Piano allows you to experience a tactile surface.
This piano has a synthetic ivory key top that absorbs moisture from your fingers, preventing slipping. The Virtual Resonance Modeling (VRM) technology of the YDP184 Arius Piano allows for natural resonance. With this technology, you will be able to produce a wide range of expressions.
The Yamaha YDP184 digital piano is a decent entry-level digital keyboard that offers the reasonable sound quality, plenty of features, and nice, intuitive controls. It's available in two variants — one with a stool — and with the included bench, it's considerably less expensive than the Yamaha YDP143 (which doesn't include the bench). 
Yamaha CP88 is a stage piano and is surely one of the best Yamaha digital pianos. It features a Graded Hammer Action keyboard, a sustain pedal, and a 3.5 mm stereo mini jack for connecting a headset. The wooden piano cabinet is an attractive departure from the Yamaha CP-60 and CP-70, and the black keys and white keys look striking for a stage piano.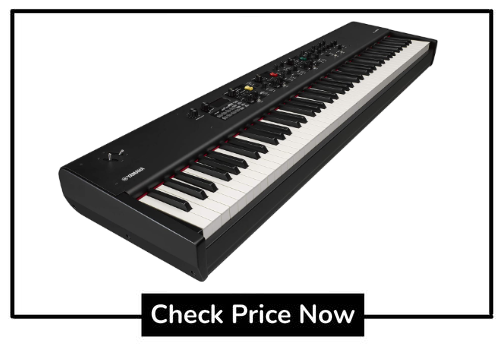 The Yamaha CP88 is an attractive and affordable piano for the home, studio, or classroom. It's available in a variety of finishes and feels remarkably solid for an instrument this size. The CP88's sound is decent, but there are plenty of better acoustic and digital pianos out there, and it lacks features found on other Yamaha digital pianos, such as built-in speakers and a damper pedal.
Although the CP88 has the same keyboard action as the CP70, it has a bigger sound stage for a stage piano, so it's a good deal more resonant than the CP70. The CP88 also comes with an excellent sustain pedal and pedal sustain option, as well as a semi-pneumatic damper, and Yamaha's Graded Hammer Standard action means that this piano is easy to learn to play.
Overall, this is an excellent stage piano and is highly recommended. For the price, though, the CP88 still offers solid value, and it's more than good enough for experienced pianists to practice, record, and perform with.
The Yamaha YDP103 Arius Series Piano with Bench is an affordable, easy-to-learn keyboard that packs plenty of features into a compact package.  The Yamaha YDP103 piano features advanced wave memory stereo sampling technology. The YDP103 features 12 tones and 10 voices. The dual mode allows you to combine two voices together, like piano and strings.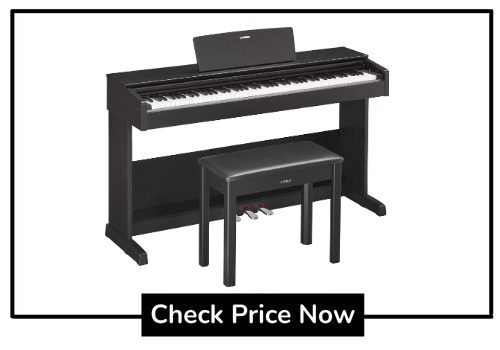 With 3 pedals, the YDP103 piano features 3 different pedals, giving you the freedom to explore different playing techniques. Compared with other keyboards, this one has fewer voices and pedals and weighs about 5 pounds, 15 ounces, making it much easier to lug around.
Yamaha's dual mode lets you combine two voices together, like piano and strings, and it offers sounds that are more realistic than on other keyboards, thanks to Yamaha's advanced wave memory stereo sampling. The piano sounds are clearly identifiable and respond well when you play, but the keyboard gives you a decent amount of control over your sound, including 33 different instrument sounds and a 1,000-voice music library.
The keyboard can connect to your computer using USB or MIDI cables, which are not included, for even more sound options. The keyboard also includes an onscreen keyboard display to help you learn to read music more easily. The piano, too, has a sturdy build and weighted action that feels nice under your fingers.
FAQs about Best Yamaha Digital Piano
The Yamaha Digital Piano is a great choice for those who are looking for a quality instrument for their musical needs. It offers a range of features, including realistic sound, versatile playing options, and an easy-to-use interface. With the Yamaha Digital Piano, you can enjoy the sound of an acoustic piano, with the convenience of digital technology. Here are four frequently asked questions about the best Yamaha Digital Piano.
What is the best sound quality available with the Yamaha Digital Piano?
This instrument offers a range of sound options that are ideal for both beginners and experienced musicians. You can choose from a variety of voices, including grand piano, strings, and organ. Additionally, the Yamaha Digital Piano offers a range of effects and reverb, so you can create a unique sound.
What is the best way to learn how to play the Yamaha Digital Piano?
Yamaha Digital Pianos are designed to be easy to use, even for beginners. With the help of the Yamaha Piano Tutor app, you can learn the basics of playing the piano. The app also provides interactive lessons and other features to help you improve your playing.
What accessories are available for the Yamaha Digital Piano?
Yamaha offers a variety of accessories that can help you get the most out of your instrument. These include sustain pedals, foot pedals, and a variety of stands and cases. Additionally, you can also purchase a range of digital sheet music and MIDI files, allowing you to practice with some of your favorite songs.
What is the cost of the best Yamaha Digital Piano?
The cost of the Yamaha Digital Piano varies depending on the features you are looking for. However, Yamaha offers a variety of models that are affordable and offer excellent sound quality. Additionally, Yamaha offers financing options, so you can spread the cost of your purchase over time.
Conclusion
The best digital Yamaha piano that is popular on the market is given here. With unparalleled sound quality and a variety of features, Yamaha digital pianos are sure to satisfy any musician's needs. The Yamaha digital pianos provide the best sound, feel, and features around. Go through our list of the best Yamaha digital pianos and order the one that catches your eye. Hope this guide was helpful. Visit PianosHub.com for more useful and informative guides.