Nord is one of the leading brands in digital pianos, and the Nord Stage 3 is their latest offering. The Nord Stage 3 is the latest flagship digital piano from Swedish manufacturer Clavia.
This professional-grade digital piano has a range of features that make it a great choice for serious pianists, such as its high-quality sound and realistic feel.
With its powerful sound engine, advanced effects, and intuitive interface, it's no wonder that the Nord Stage 3 has become a favorite among professional keyboardists and musicians alike.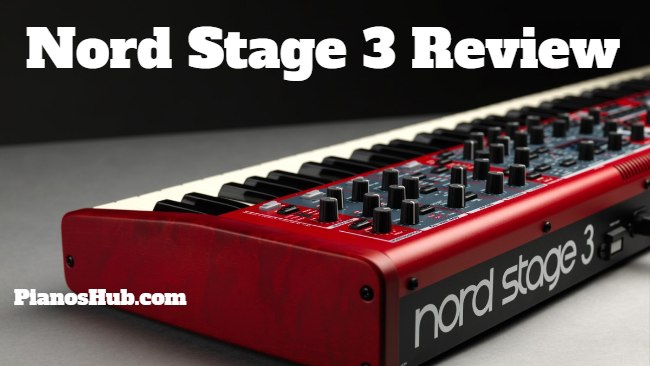 In this review, we'll take a look at the Nord Stage 3's features, sound quality, and overall performance to see if it lives up to the hype.
From its comprehensive feature set to its stunningly realistic sound quality, there's plenty to love about this versatile instrument – so let's dive in!
Nord Stage 3 is a professional-grade digital piano designed for serious pianists and keyboardists. It features a realistic hammer action keybed with 88 full-sized weighted keys, which provide an authentic feel. Its sound engine is powered by two custom-made grand pianos and has been meticulously sampled to provide the most accurate and natural tone possible.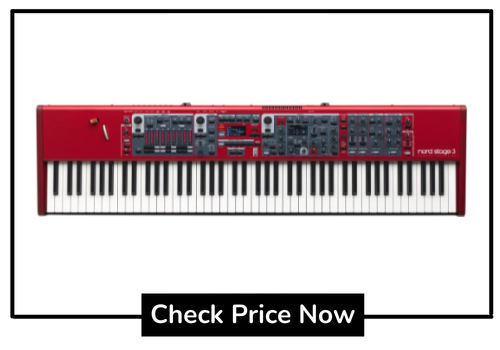 Additionally, the Nord Stage 3 features a range of effects and sound-shaping controls, which provide an extra level of expression to your playing. Whether you're a beginner or a seasoned player, the Nord Stage 3 is sure to inspire you with its versatility and power. In this review Nord Stage 3 digital piano, we'll take a look at what makes the Nord Stage 3 such an impressive instrument and why it's worth considering for your next purchase.
Pros and Cons
Stylish Body and Design
The Nord Stage 3 has a classy, modern design with black metal casing and white metal accents. It's lightweight yet sturdy enough to withstand the rigors of regular gigging – perfect for both studio and stage. The front panel is easy to use and makes navigating through various functions simple.

Additionally, the Nord Stage 3 comes with two super-clear OLED displays so you can keep an eye on parameter settings and make quick adjustments on stage.
Two Super Clear OLED Displays
The two super-clear OLED displays on the front panel of the Nord Stage 3 make for quick and easy navigation when changing programs or sounds. The display also provides seamless transitions when you switch between sounds or programs, allowing for a more natural performance.
Fully Weighted Hammer Action Keybed
This digital piano consists of 88 weighted hammer action keys that provide an authentic piano feel. As you play, the instrument responds to your touch and expression, providing a more natural playing experience. The Nord Stage 3 also features an extended Split functionality with optional crossfade, so you can create layered sounds or play two different instruments at once.
Advanced String Resonance Feature
The Nord Stage 3's advanced string resonance feature provides a more realistic playing experience. As you play, the instrument will respond to your touch, and the sound of the strings will be enhanced and clarified for a richer tone. This feature is a great addition that helps bring your performance to life.
Multiple Playing Sections
This is one of the best digital pianos on the market and is packed with features, including a comprehensive Piano section, an award-winning C2D Organ section, a Synth section, and a powerful Effects section, also see best headphones for digital piano 2023. The piano section comes with doubled memory (2 GB) for the exclusive Nord Piano Library and has 120-note polyphony.
Organ
The Organ section provides a B3 tone wheel and vintage transistor organs, plus two new Principal Pipe Organs that are sure to please organists.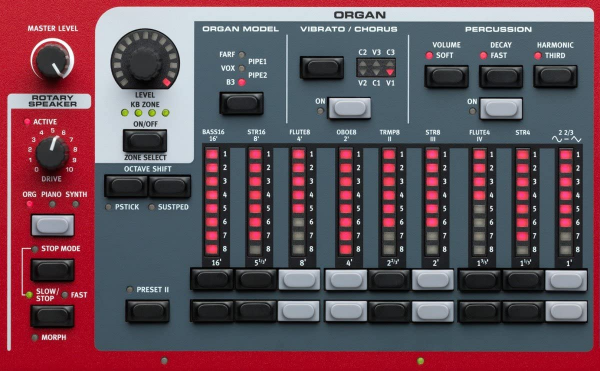 Synth
The Synth section features the acclaimed Nord Lead A1 Synth Engine combined with sample playback and a brilliant OLED display for all oscillator functions.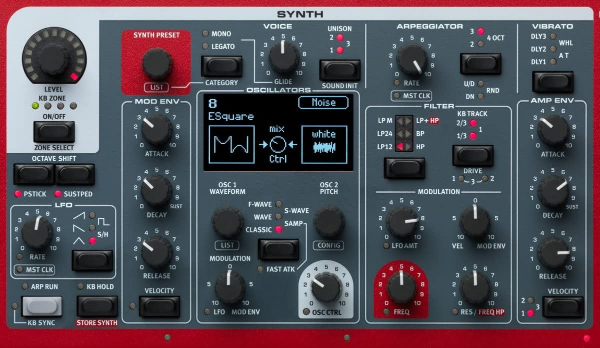 Effects
The Effects section includes a brand-new filter Effect, extended morphable parameters, an enhanced delay effect, and a separate reverb and compressor for each slot.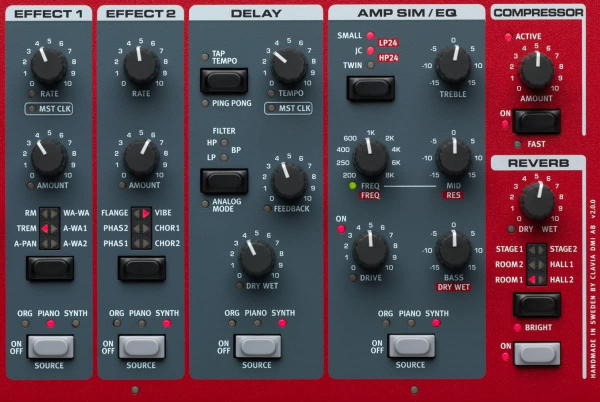 Produce and Record Professional Music
With the Nord Stage 3, you can easily produce and record professional music in the studio or on stage. The intuitive interface allows you to make quick adjustments, allowing you to create music with ease. The Nord Stage 3 is an excellent digital piano and one of the best in its class.
Master Clock Function
It also features a master clock option, which is great for playing in time with other instruments. With this feature, you can sync the tempo and timing of your songs, creating a unified performance. The Nord Stage 3 is an excellent digital piano for serious players and keyboardists alike. It provides the perfect balance between playability and sound quality, making it a great choice for any musician.
Compatibility and File Transfer
The Nord Stage 3 is compatible with Mac, PC, and iOS devices, so you can easily integrate it into your recording setup. For instance, you can use the Nord Sound Manager to upload and manage sound libraries, edit settings, and access other features. The instrument also comes with a USB connection, allowing you to connect your device and transfer files quickly.
Price
Although this is an expensive instrument, the Nord Stage 3 is a great choice for those looking to invest in a quality digital piano. Its features and sound quality make it worth every penny, and it is sure to provide years of reliable performance.
Conclusion
The Nord Stage 3 is an excellent digital piano that provides a realistic playing experience and great sound quality. The Nord Stage 3 is a powerful digital piano with an intuitive interface and ample features to keep even the most seasoned players entertained. Its affordability and compatibility make it a great choice for serious musicians looking to upgrade their performance capabilities.
Whether you're recording in the studio or performing on stage, the Nord Stage 3 is sure to take your music to the next level. Hope this review of Nord Stage 3 digital piano helped you make a final decision. If you want to see more piano reviews, visit us at Pianos Hub. Thanks for reading.