If you are searching for a digital piano with incredible sound quality and advanced features, then the Kawai ES110 could be the perfect choice for you.
The Kawai ES110 is a popular digital piano that is designed to replicate the feel of an acoustic grand piano while providing the convenience and flexibility that only a digital instrument can offer.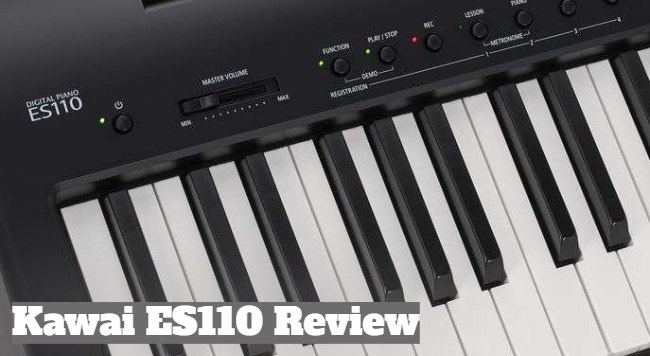 The 88-key, hammer-action digital piano has built-in speakers and a range of functions to give players an authentic experience whenever they play.
In this Kawai ES110 review, we'll discuss the features, sound quality, and overall value of the Kawai ES110 so you can decide if it's right for your needs. Read on to learn more about this impressive instrument!
Kawai is one of the most popular digital piano manufacturers, and the ES110 is a great example of why. This 88-key instrument has excellent sound quality, with both grand and electric piano settings to suit different playing styles. It also has built-in speakers, allowing you to enjoy your music without needing external amplification.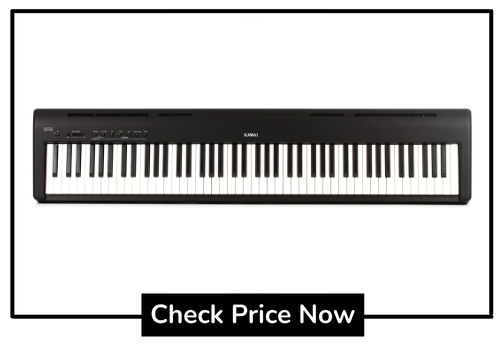 If you are in confusion about the sound quality of this digital piano, then you can read the ES110 review below. It also has many positive reviews from customers who have purchased it from Amazon and are very satisfied with its performance. The overall rating is 4.6/5 stars which is also a good indication of customer satisfaction.
The Kawai ES110 has so many advanced features that you must be looking for in a digital piano and of course, there will be some Kawai ES110 problems that you must know.
88-key Responsive Hammer Compact Action Piano
The Kawai ES110 has 88 fully weighted, hammer-action keys that provide a realistic response. Its Responsive Hammer Compact action ensures an authentic grand piano feel with accurate key movement and weighted touch.
It also has adjustable touch sensitivity allowing you to customize the feel of your playing experience. The keys are durable and designed to last, as well as being backlit for easy viewing in low-light conditions.
Sound Quality
The ES110 delivers exceptional sound quality thanks to Kawai's advanced sampling technology. It has a range of grand piano sounds as well as electric, harpsichord, and more. With a 192-note polyphony, you will never run out of notes while playing complex pieces.
The built-in speakers provide a rich, full sound that is perfect for practice sessions or small concerts. You can also connect the piano to external speakers and amplifiers for an even bigger sound.
Design and Durability
The Kawai ES110 piano is sleek and modern with its black gloss finish. It's also lightweight and portable, making it easy to take anywhere. The design is durable and the keys are made of high-quality materials to ensure long-lasting performance. If you are looking for a reliable digital piano that you can trust, the ES110 is it.

Authentic Feel
This is one of the best features of the Kawai ES110. It has an authentic feel that is comparable to what you would find in an acoustic piano. The keys are weighted, and they respond accurately when playing different notes or chords. Additionally, it has adjustable touch sensitivity so you can customize the feel of your experience.
Built-in Speakers
This digital piano has two 8cm built-in speakers, giving you plenty of volume without the need for external amplification. The built-in speakers provide a rich, full sound that can fill any room with your music. The ES110 has a variety of onboard effects including reverb, chorus, and delay to further customize the sound of your performance.
Multiple Modes
The Kawai ES110 has multiple modes to suit different playing styles. This includes dual and split modes, allowing you to layer two sounds together or play two different instruments at the same time. It also has a metronome and transpose functions for further customization of your performance.
Connectivity & Compatibility
The ES110 has a range of connectivity options including Bluetooth MIDI In/Out ports, a USB port, and a headphone jack. This digital piano is compatible with many music software applications and can be used to compose your own songs.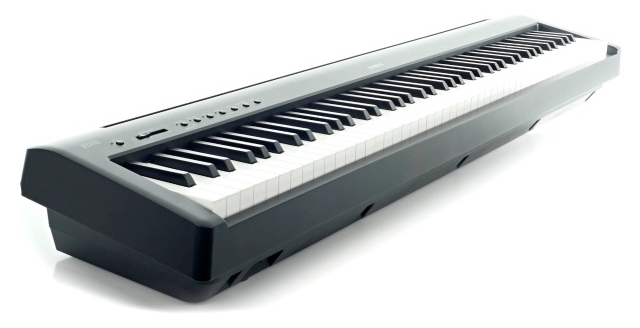 Impressive Value
The Kawai ES110 is available for purchase from Amazon and has a very affordable price. It's an impressive digital piano that offers great value for money. If you are a beginner to intermediate pianist, this digital instrument could be perfect for you.
Kawai ES110 Pros and Cons
Is Kawai ES110 Worth it?
The Kawai ES110 is a great digital piano for beginners and those on a budget. It has an impressive range of features, excellent sound quality, and versatility that will make you feel like you are playing a real acoustic grand piano.
Not only does the piano offers great touch sensitivity and sound, but it's also very affordable. If you're looking for a reliable digital piano to start learning the instrument, the Kawai ES110 is definitely worth checking out.
Who is Kawai ES110 Suitable for?
This is an entry-level digital piano that is suitable for beginners who want to learn the basics. It's also perfect for intermediate players who are looking for a reliable instrument at an affordable price. With its sleek design and impressive range of features, it offers excellent value for money.
Also, with a reasonable price tag, this digital instrument is great value for money and perfect for beginner or intermediate players who want to learn the basics of playing the piano.
Final Thoughts
Overall, the Kawai ES110 is an impressive digital piano with many features that will make any player happy. Its realistic feel and great sound quality are what make this piano stand out from the crowd. Hope this review has been helpful in giving you a better understanding of what the Kawai ES110 is all about.
If you are looking for an affordable digital piano that offers great features and sound quality, this could be it. Happy playing! Check out our Pianos Hub website to find the best piano and its accessories.